World's Largest Saturniidae Site!, 2018
Photo of the Year 2017: Adult Moth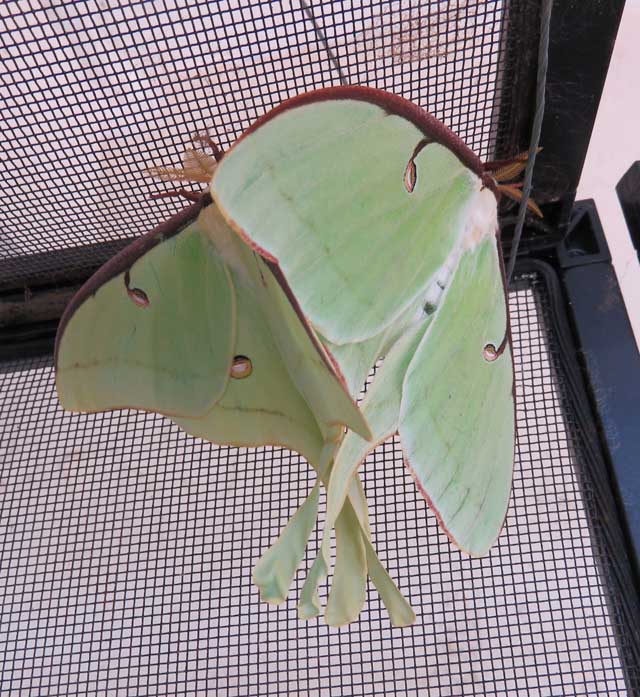 Actias luna pairing, Lake County, Florida,
April 16, 2017, courtesy of Taylor Jones; First Place Photo, Adult moth, 2017
Photo of the Year 2017: Larva
<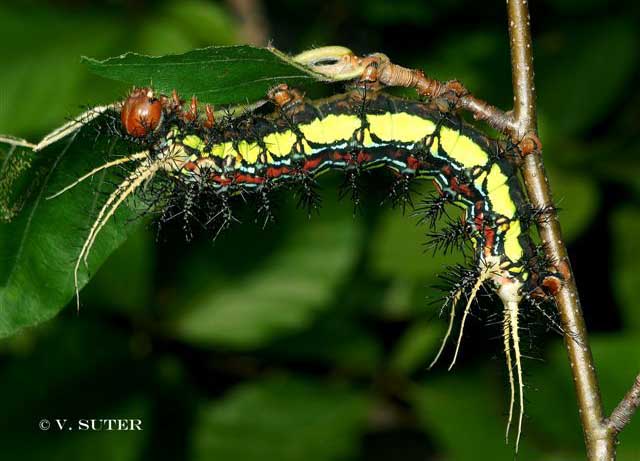 Automeris parafera eighth instar,
Puno, Peru, courtesy of Viktor Suter and Bernhard Wenczel; First Place Photo, Larval, 2017
WLSS Contributer of the year is Bart Coppens, who has provided great images of many Saturniidae adults and larvae from around the world.
---
If you are in US and would like to place an order, please send all of the following in your email to me:
1) Complete name and shipping address;
2) Species and quantities desired;
3) Your payment method: personal check or international money order in US funds; Paypal.
Do not send payment until I confirm your order.
In late summer and fall of 2018 I do anticipate being able to offer overwintering cocoons of
Actias luna at $6.00; discounted to 5.50 for ten or more;
Agapema homogena at $8.00; discounted to 7.50 for ten or more;
Antheraea polyphemus at $6.00; discounted to 5.50 for ten or more;
Automeris io at $5.50;
Callosamia promethea at $6.00; discounted to 5.50 for ten or more;
Hyalophora cecropia at $7.70; discounted to 7.00 for ten or more;
Samia cynthia at $6.60; discounted to 6.00 for ten or more;
I also do expect to be able to offer the following butterfly pupae:
Eastern Tiger Swallowtail at 6.00; discounted to 5.50 for ten or more
There will be one flat S & H fee of $9.00/order in US. S & H not only covers postage but all packing and record keeping that go into meeting your requests.
Bill Oehlke
Box 476
Montague, PE, C0A 1R0
Canada
Please use $1.25 postage on your payent envelope to me as that is the cost of sending letter mail to me from US to Canada.
orders to US destinations will be shipped either from New Jersey or from Maine, starting November 2 until supplies run out.
Contact Bill Oehlke.
Do not send money until I have confirmed your order with a return email where I will give you a price quote.
I provide online overwintering instructions, and I provide online instructions for spring/summer emergence of cocoons.
I also provide online instructions for rearing these species if you are interested.
WLSS members should consult the October newsletter on line for WLSS pricing and ordering instructions.
World's Largest Saturniidae Site!
This site represents literally thousands of hours of research and webpage design. It is a compilation of information and images from all of my freely listed websites as well as much, much more.

This site hosts pages for over 2500 Saturniidae species/subspecies from around the world with over 1550 species/subspecies depicted in over 10,000 images.

There are active checklists for just about every country that has Saturniidae populations.
The site also features an extensive hybrid section.

There is a one-time, life-time membership fee of $25.00 US. ($20.00 for students or seniors, over 65).

People in U.S. can pay one time fee of $25.00 U.S. by personal check or can send payment in US dollars ($25.00 US) by Paypal to Bill Oehlke or by using the following Paypal link. Please also send me a separate personal email when using the Paypal button so I know what payment if for and have ease of communicating to you the login URL and access information.

Read what members have to say: Members' Comments

Click on Samples to access seven sample files. A sample county by county distribution map for the state of Illinois is available by clicking on Illinois Counties map. Similar maps have been constructed for all states. Most of the European and Asian countries have active checklists; maps for Central and South American countries are being developed. Southeast Asia, Australia and Africa are now well covered.

Contact Bill Oehlke at Bill Oehlke for registration information.

The following three items are needed for registration:
1) A personal check for $25.00 US ($20.00 = student rate, seniors over 65), sent to Bill Oehlke, Box 476, 155 Peardon Road, Montague, Prince Edward Island, Canada C0A 1R0. Please do not send a U.S. postal money order as they are cashable only in the United States or one of its territories. International postal money orders or personal checks in U.S. ($25.00) funds are fine.
2) your full name and email address,
and
3) an indication from you that you will maintain confidentiality of access information.

Access info (simple) will be sent as soon as I have the three items listed above.

I am personally committed to sharing information about all of the world's Saturniidae. Hence, this site will continue to be a work-in-progress.

I am constantly seeking natural setting images of Saturniidae in all stages of development from around the world. As images become available, they will be woven into html text format for your viewing and enjoyment. Free membership for those who supply images of species not already depicted.

A special section on hybridization is available.

New rearing articles will be posted regularly.

Members will receive quick responses to email questions.

Proceeds are to cover my online expenses and high quality text references.

Members who deal in papered specimens are entitled to a logo hypertext link at no extra charge.

I am open to any member suggestions for services provided from this site.

Tim Dyson has sent me outstanding images of live moths from Peterborough, Ontario, Canada. Check out the Catocala along Tim's Bait Trail at Tim Dyson: Night Vison Photography.

Visit other Lepidoptera websites designed and maintained by Bill Oehlke by clicking on the BLUE or PURPLE TEXT:

North American Catocala: Underwing Moths.

Saturniidae of Prince Edward Island: Saturniidae Livestock for Sale in Canada and USA

Caterpillars Too!: a membership site featuring images of North American butterfly caterpillars and adult butterflies, too, to help with identification.

ARCTIIDAE: TIGER MOTHS; WOOLLY BEAR CATERPILLARS

SPHINGIDAE OF PRINCE EDWARD ISLAND

BUTTERFLIES OF PRINCE EDWARD ISLAND

THE KIRBY WOLFE SATURNIIDAE COLLECTION

THE THIBAUD DECAENS SATURNIIDAE COLLECTION

SPHINGIDAE OF THE UNITED STATES

Caterpillar Identification Guide

a href=http://www.silkmoths.bizland.com/poncholeroysimon.htm>Leroy Simon Saturniidae Site

Support this website and visit other insect sites by
clicking flashing butterfly links to left or right.
Enjoy one of nature's wonderments: Live Saturniidae (Giant Silkmoth) cocoons.